September 2023 Lee County Market Update
Posted by Mike Darda on Friday, September 1, 2023 at 3:44:11 PM
By Mike Darda / September 1, 2023
Comment
September 2023
Lee County Market Update
Hi, this is Mike Darda with Compass Realty giving you your September 2023 market update for Cape Coral, Fort Myers, and Lee County.
So we'll start, as always, with our sold report. In August, we saw 803 homes sold compared to 949 in August a year ago. So that's a decrease of 15%.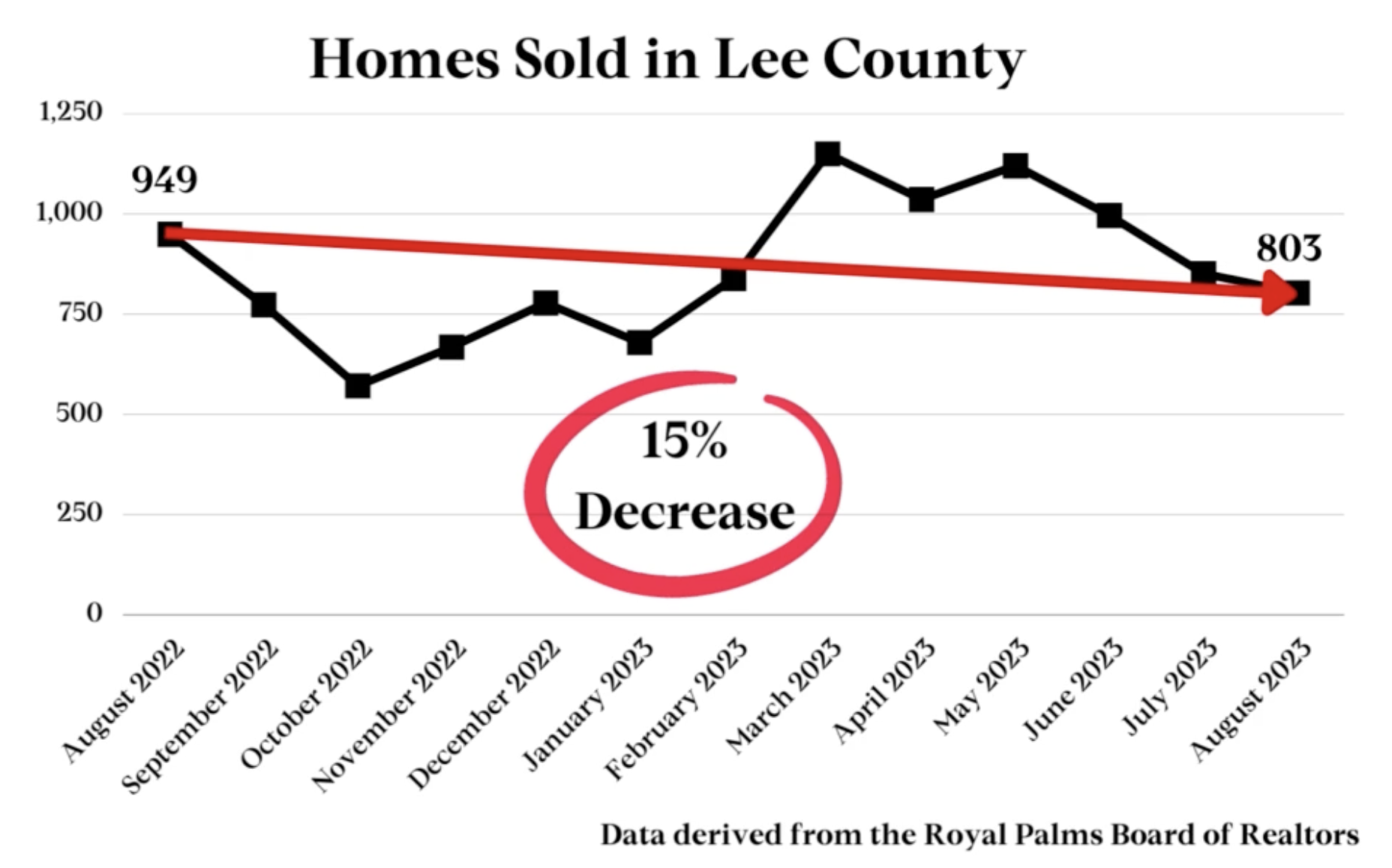 Active inventory is growing. It's from 3,464 homes that are for sale today, we only had 2,321 a year ago. That's an increase of 49%. So a very significant increase in inventory. Good news for buyers, they've got a lot more selection to choose from.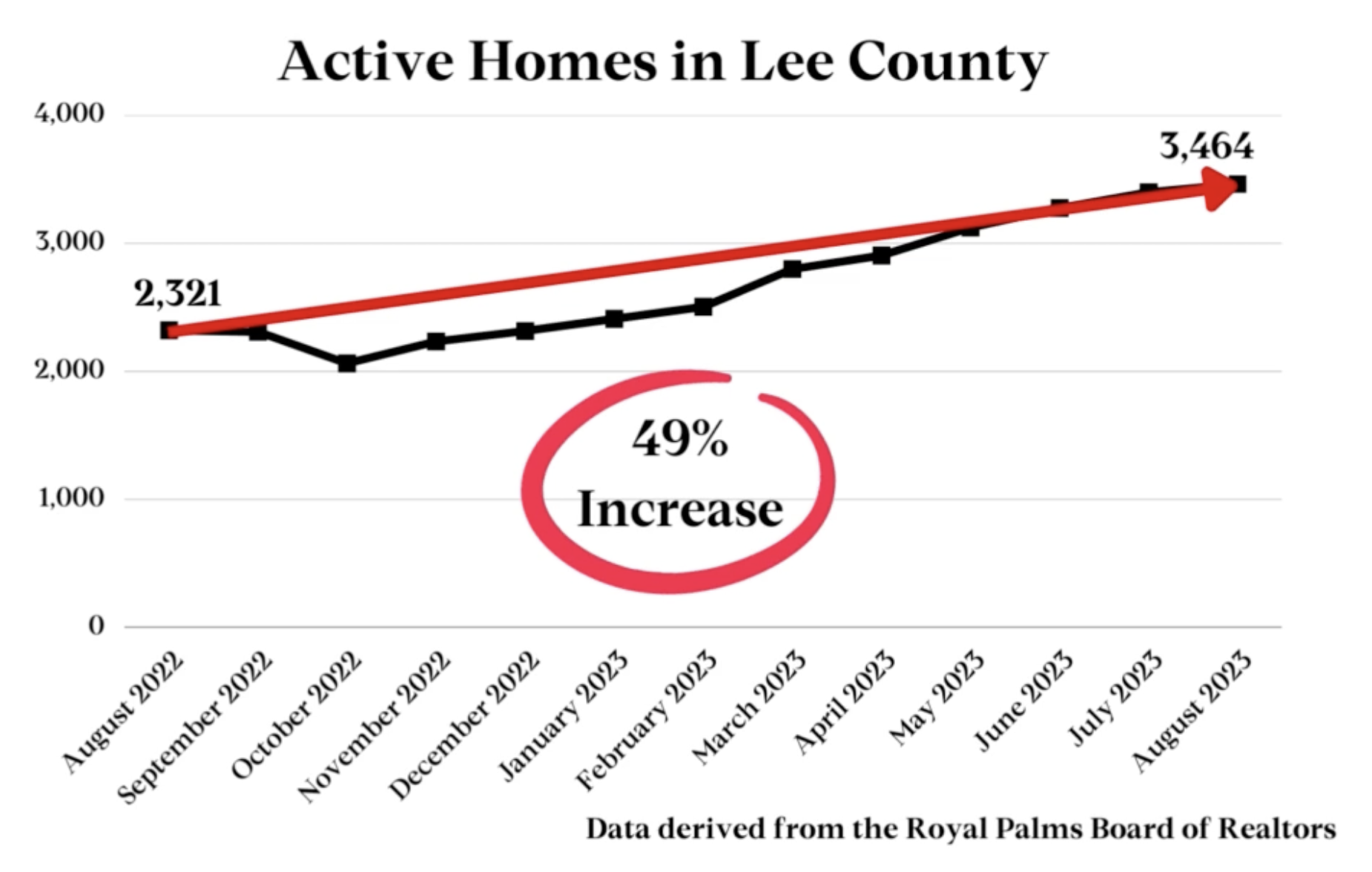 New listings coming on the market remain virtually unchanged from a year ago with about 1,551 new listings coming on the market in August. But there have been some big changes in the following numbers, the pending sale report.
This is buyers that put offers on homes that sellers accepted but haven't closed yet. In August this year, 166 buyers pended new homes in Lee County compared to last year when 278 buyers did that. So that's actually a decrease of 41%. So a good significant drop in new pending sales.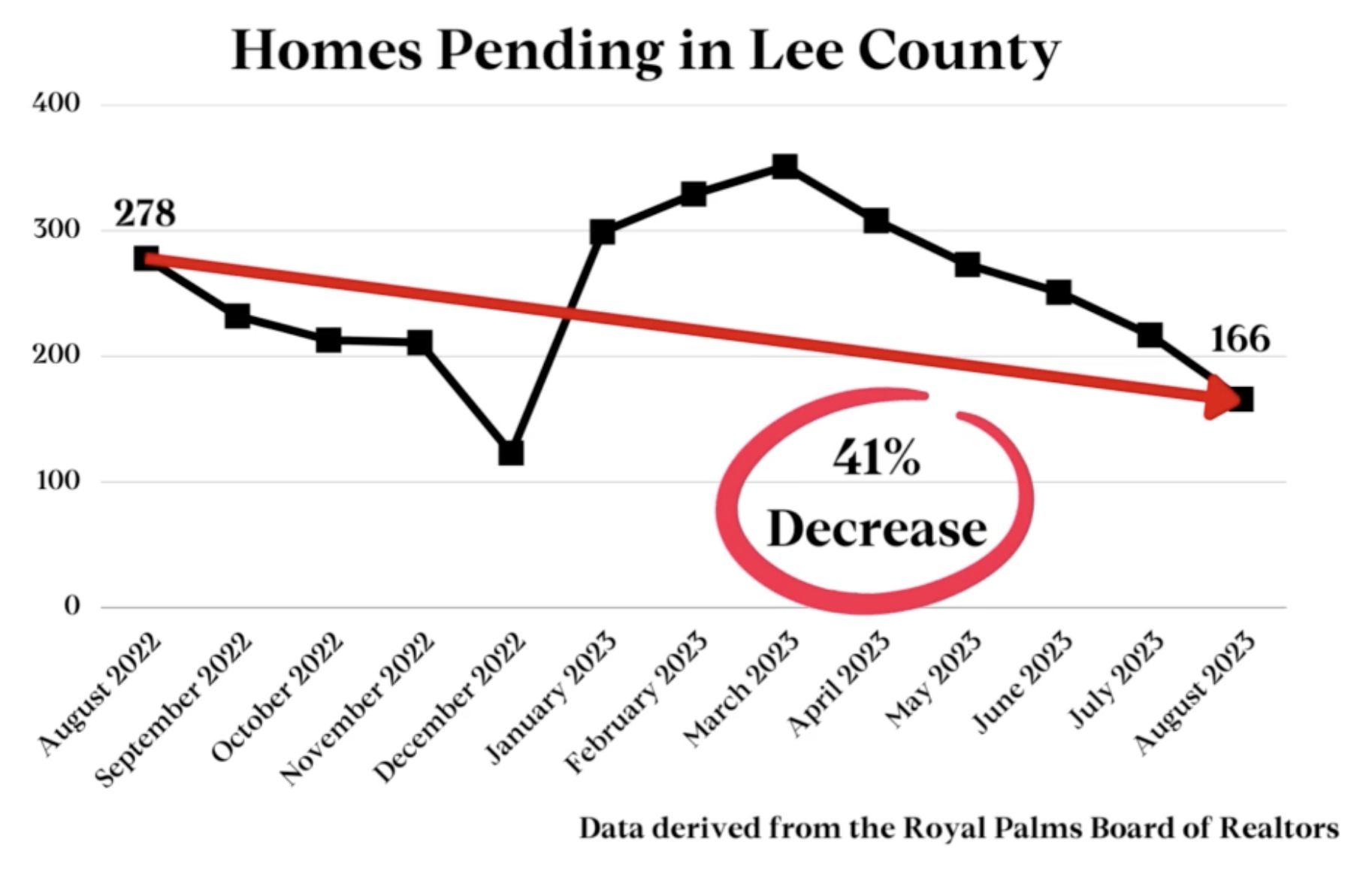 Prices have also been impacted, $451,000 is the current average sale price of a home in Lee County compared to $508,000 a year ago. That's a drop of 11%. And all these things we've mentioned has increased how long homes are sitting on the market right now.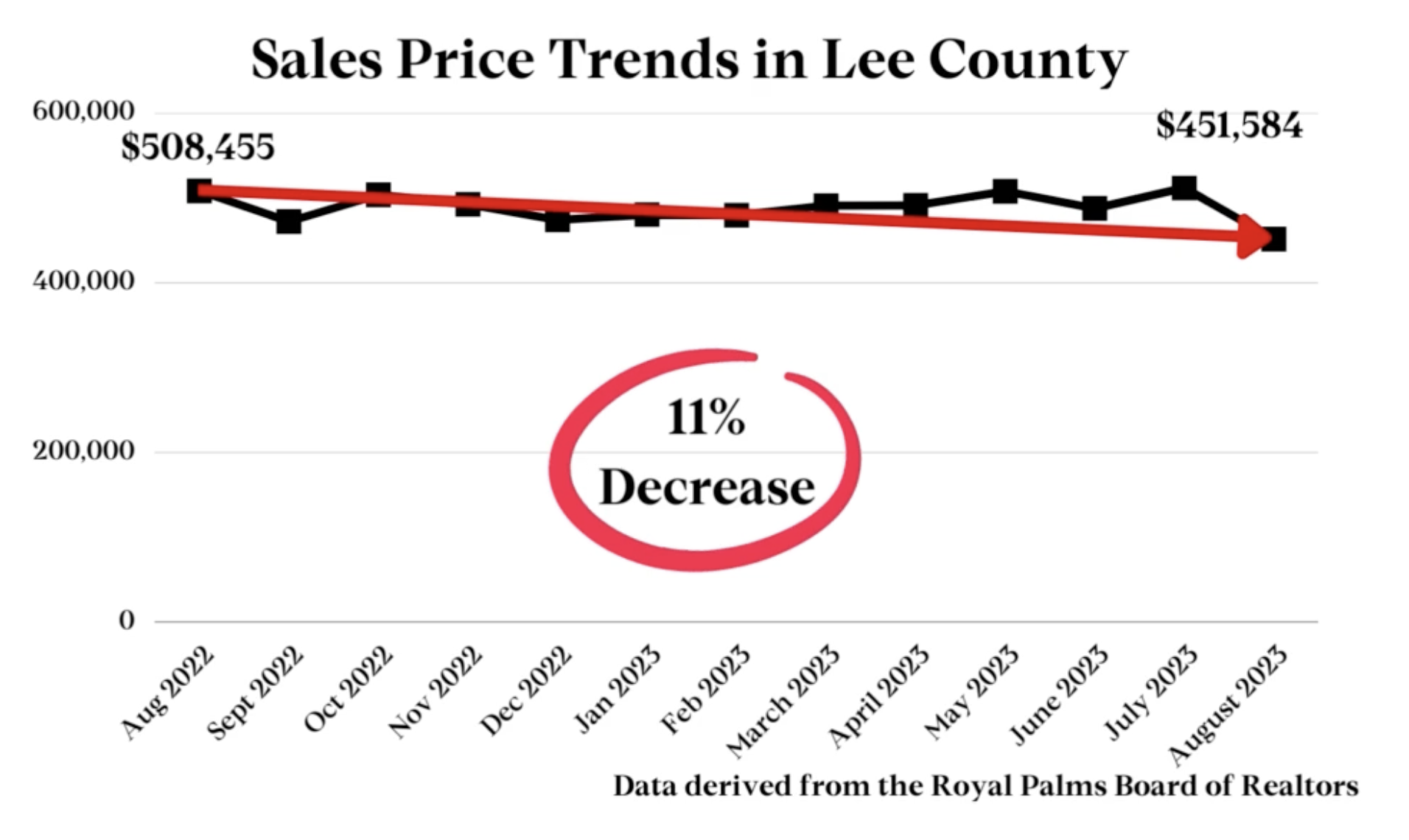 It's taking 49 days on average to sell a home compared to 24 just a year ago. So it's actually taking twice as long to sell a home. And that's caused some homeowners who are looking to speed up the process to lower their prices to get their homes sold. That's why we're seeing these price drops.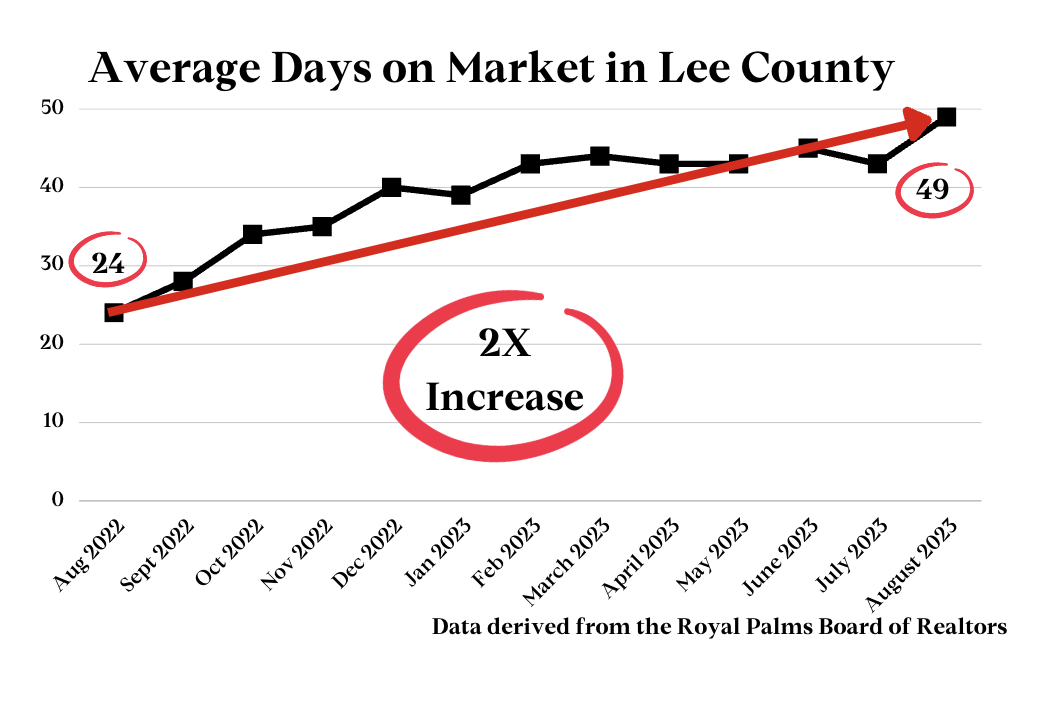 The absorption rate is when you don't list another home for sale, how long would it take to sell all of those 3,400 homes that are for sale right now. And the answer is 4.4 months supply. That's a neutral market. But if these stats continue and these trends continue, we can expect that we're moving towards a buyers market where the buyer has more purchasing power, actually more control over the transaction than the sellers.
Interest rates, of course, we know are the drivers of all these changes. Currently, rates are at 7.18% and that's versus only 5.66% a year ago. So if you think about that, that's a 27% increase. So that means a buyer that could only afford, say, let's say they could afford a $450,000 home a year ago if they had no change in their income just because of the interest rate increase. They could maybe only afford a $380,000 home today. So you can see how that could create fewer buyers in the market. And the buyers that are out there are shooting a little lower in sale price.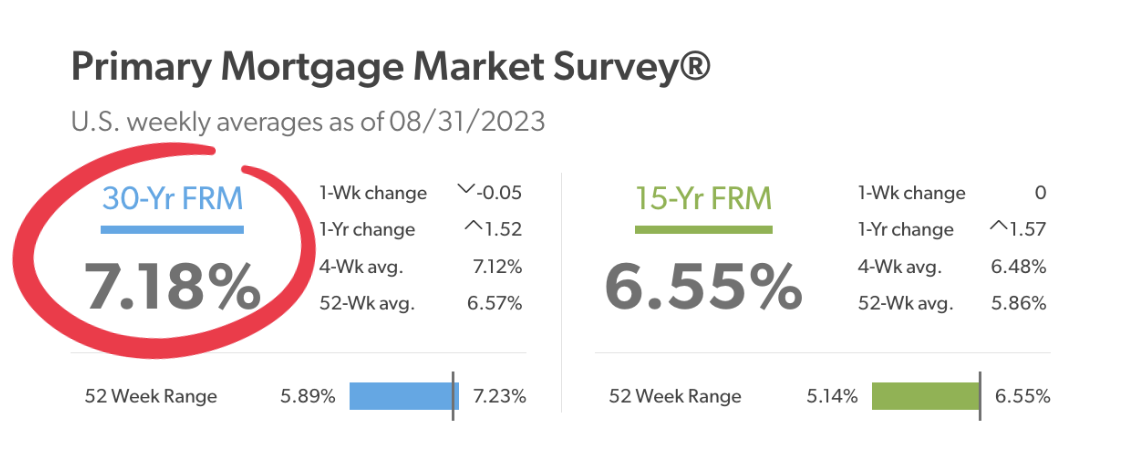 The big news is, of course, insurance. That's also on everyone's mind. According to a News Week article that came out this week, insurance in the state of Florida is up 42% in how much it costs. The average home costs $6,000 a year to insure. And right now, as a result of that,we saw twelve companies stop writing new policies for insurance. And we saw three companies leave the state of Florida.
Fortunately, there's some changes coming up the road here on this. There's new legislation that is going to restrict how much lawyers can charge when they're fighting on insurance claims. And this, combined with another piece of legislation that's going to help give money to homeowners to reinforce and strengthen their homes against storms, has actually brought in four new insurance carriers for the state of Florida just this week. So we hope that that's a positive trend that we will see to alleviate some of these insurance concerns we have.
If you're wondering how these statistics affect you, whether you're buying or selling real estate or you're just curious about what's happening in our market, please reach out to us. We'd be happy to talk to you.